What we do
Based in the beautiful island of Guernsey, Island RIB Voyages offer the perfect way to explore the coasts and islands and their history and wildlife up close on a ride you won't forget!
An experience to remember!
Travel in complete safety on one of our fast RIBs with an experienced crew and attentive service. We offer a range of exciting experiences and we do great children's parties. Charter a RIB for your own private or corporate experience on the water.
Meet the team
The Captain
Dan


The first Mate
Laura


The Ancient mariner
Chris


The Boats
Kernow Explorer and Hanois Hornet are 10m twin engined RIBs (Rigid Inflatable Boats). They are  fully equipped to MCA regulations for passenger carrying.
They are fully insured and approved by the Guernsey authorities. With the air-filled inflatable ring around the hull, they are virtually unsinkable.
Both boats are equipped to the highest standards with the latest electronic navigation aids and lifesaving equipment.
12 passengers can be carried in each boat in complete safety.
The Service
Hospitality is the keynote of our service. Guests are welcomed by the Skipper and made to feel at home. A full safety briefing is given at the beginning of each journey. Our knowledgeable guides will tell you all about the local wildlife as well as lots about local history and folklore.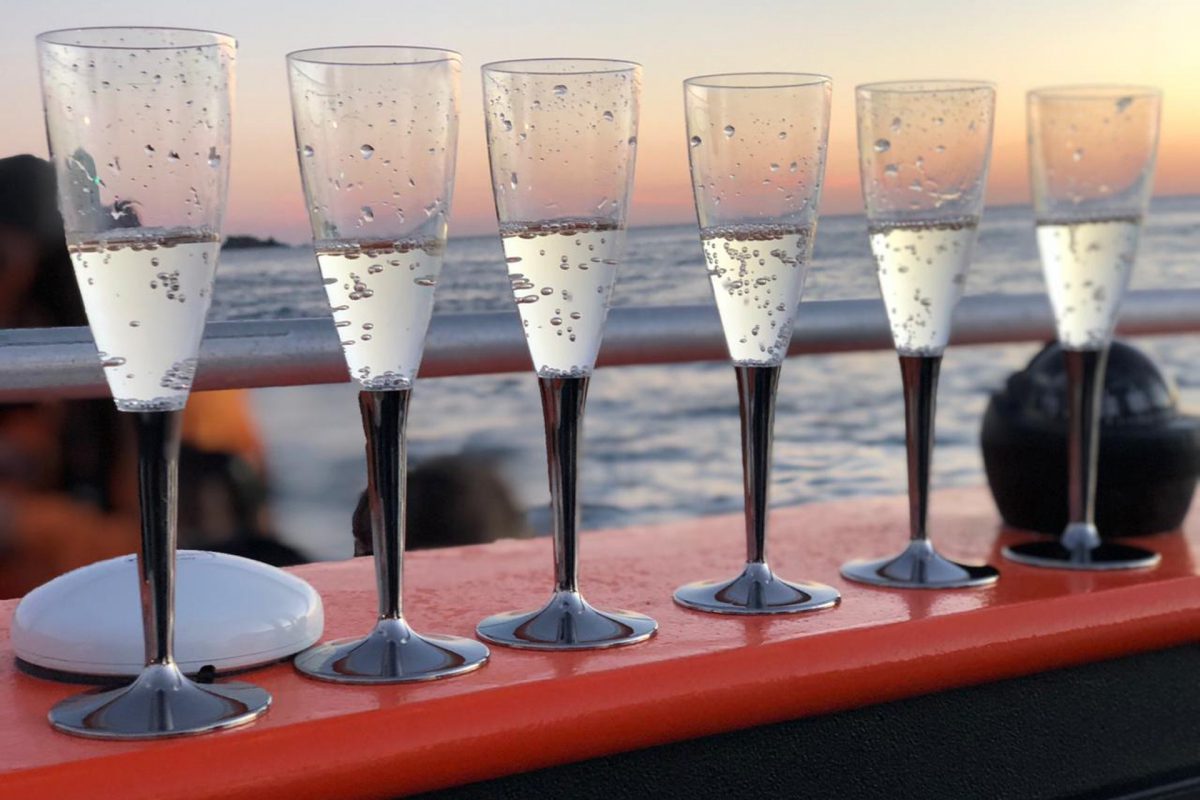 The Company
Island RIB Voyages is part of Bumblebee Marine Limited – a dynamic Guernsey marine enterprise established in 2012.
The company is a member of the Guernsey Chamber of Commerce, the Guernsey Marine Traders Association and the Guernsey Tourism Partnership.
IRV and the environment
We take our responsibility to the environment very seriously
The animals we meet deserve the utmost respect and we work with them not against them. We never go close enough to concern the wildlife and we never chase them. Nor do we distort the ecological balance by feeding animals to attract them
We use quiet fuel-efficient low-emission engines.
We ensure that nothing is deposited in the sea by our passengers.
We have been involved on several occasions with the local animal charity – the GSPCA – in both rescuing and relocating seals. We are happy to do this without charge.
We have been closely involved in the development and maintenance of the RAMSAR* site in Herm and the Humps, using the benefit of our experience to shape the structure / arrangements which led to its recognition from January 2016.
We are members of the new Guernsey' Outdoor Charter Group which will help Guernsey showcase itself as an island that has well managed landscapes while allowing great sustainable recreational opportunities. The basic principles that apply to everything it does and the activities it carries out are to respect other people, to protect the natural environment, to enjoy the outdoors and to stay safe.
To both these organisations and other local environmental groups we constantly contribute the benefit our knowledge derived from constantly operating around the wildlife-rich coasts of these islands.
* Designating a site as a 'Ramsar site' gives international recognition of the special environmental, cultural and heritage characteristics of a particular area.   Designation lays the foundation to develop a management plan, in full consultation with those who manage, live and use the area, to ensure the conservation of key species & habitats.
IRV and the community
We have an active programme of supporting local charities. Over recent years we have raised funds for Alderney Cancer Relief, St John Ambulance, MS, the GSPCA, Channel Islands Air Search, the RNLI, Herm School, the Tumaini Fund, Smile for Georgie and the Guernsey Macular Society – not bad for a small firm. We also provide discounted trips for disability groups.
Thank you very much indeed for the great Caves Tour to Sark Isle yesterday! Outstanding experience with beautiful landscape, fascinating caves, interesting information and much fun riding there! Enjoyed it very much! Thank you and best wishes.
Henriette
Just a note to say thank you to you and your team for looking after us so well on our two RIB rides last Wednesday evening. We all had a great time and hope to repeat this again next year.
Soroptimist International
If you do nothing else this summer you must have a trip out with Island RIB Voyages!! Dan, Laura and the rest of the team are all amazing, safe, extremely knowledgeable and informative. Had an amazing trip up to the Humps today to see the seal colony and the lots of puffins behind Herm. A truly magical experience!! Thanks guys and keep up the good work.
Liz
Thank you so much for such a wonderful time. It was a great way to start my husband's birthday and he knew nothing about it until this morning.
Siobhan
Thank you so much for today – we had an amazing time!
Tracey  
Thank you for a fantastic trip, it exceeded all of my expectations. I did not realise that there was so much beauty behind Herm. So many seals and also puffins swimming. The staff were so warm and welcoming, especially the new young lady who so pleasant and friendly. Also the Captain/pilot was brilliant, you were. I salute you and carry on doing what you do, you are amazing.
Sandra
This website uses cookies to improve your experience. We'll assume you're ok with this, but you can opt-out if you wish.AcceptReject Read More
Privacy Overview
This website uses cookies to improve your experience while you navigate through the website. Out of these, the cookies that are categorized as necessary are stored on your browser as they are essential for the working of basic functionalities of the website. We also use third-party cookies that help us analyze and understand how you use this website. These cookies will be stored in your browser only with your consent. You also have the option to opt-out of these cookies. But opting out of some of these cookies may affect your browsing experience.
Necessary cookies are absolutely essential for the website to function properly. This category only includes cookies that ensures basic functionalities and security features of the website. These cookies do not store any personal information.
Any cookies that may not be particularly necessary for the website to function and is used specifically to collect user personal data via analytics, ads, other embedded contents are termed as non-necessary cookies. It is mandatory to procure user consent prior to running these cookies on your website.